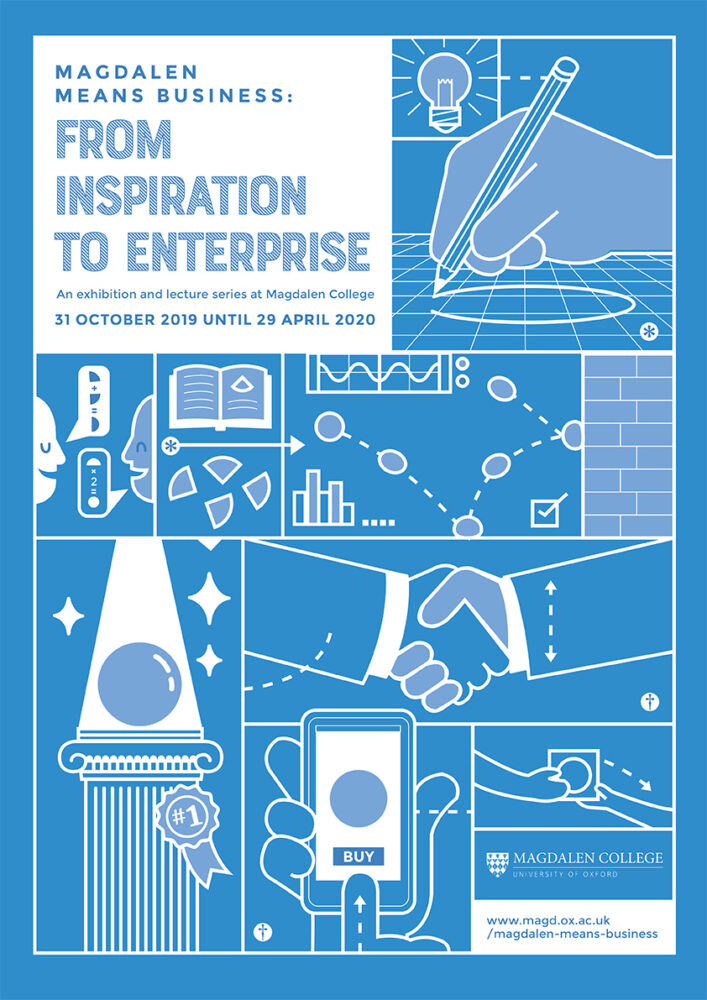 Magdalen Means Business:
From Inspiration to Enterprise
From 31 October 2019 until 29 April 2020, Magdalen College presented a multi-part event series running in tandem with an accompanying exhibition in the Longwall Library.
The series explored the relationship between academia and the entrepreneurial world, with Oxford, and especially Magdalen, at its focus. Since co-founding the Oxford Science Park in 1991, Magdalen has become a hub for developing successful start-ups in the fields of science, technology, and further afield.
This online exhibition, based on the physical exhibition in the Longwall Library, celebrates the wide-ranging entrepreneurial success of the Magdalen community, focusing on the achievements of eight distinguished alumni. This success has been achieved in a wide range of industries, ranging from information technology and medicine to chemistry and disaster management.
By clicking on the tabs at the top of the screen, you can delve into the history of entrepreneurship in college. As one of the main highlights of the exhibition was the accompanying speaker series, videos of these events have been embedded to provide more background detail.
We hope that this website will support the college's entrepreneurial network, preserving the exhibition content and allowing it to be accessed across the globe. Enjoy looking at the exhibition and watching the event recordings!