Professor Constantin-C. Coussios (Engineering, 1994, Cambridge) first came to Magdalen in 2004 as a Tutorial Fellow in Engineering. He had first been attracted to the subject through a passion for aeronautical design. An influential cross-disciplinary encounter at Magdalen with surgeon Professor Peter Friend, however, made him realise that engineering concepts could be equally and successfully applied to medical technology. This realisation, together with the mentorship of Professor Bellhouse, became just the start of a very successful entrepreneurial journey.
Living Organs:
The first company that Professor Coussios helped to found with Professor Friend was OrganOx, an influential company capitalised in 2009. This company resulted from an idea to improve the liver transplantation process. Constantin realised that he could use his engineering knowledge to help create a device that would trick a donated liver into believing it was still functioning inside the human body. Such a device had been attempted before but without success.
If such a device could be developed and marketed, it would revolutionise liver transplantation in the United Kingdom and further afield. Before, a donated liver would be cooled to 4 degrees centigrade, placed in a cold box, and transported as rapidly as possible to one of the surgical centres where it could be used. This process could take hours and often damaged the functional capacity of the liver. By mimicking the body, a new device would solve these issues, enabling the use of organs that had been discarded after cooling them in the conventional manner. In some territories, this figure had been as high as 50% of all donated livers.
Professor Coussios used the expertise he had gained from his engineering background to overcome the problems faced before and successfully developed a prototype device in 2011. After combining this prototype with a talented team that had experience in start-up companies, regulatory affairs, product management, and medicine, OrganOx gained significant amounts of investment.
This investment helped Professor Coussios to develop a successful product (pictured above with surgeons). Following successful medical trials in both Europe and the USA, the first £1 million of sales were recorded in 2017 and since then the company has consistently grown to become a very successful university spin-off venture. To date, over 650 livers have been successfully preserved and transplanted using the technology in 11 countries across 4 continents.
To find out more about this incredible product, click on "Speaker Series" above. The first event is a lecture by Professor Coussios on his entrepreneurial journey.
Future Work: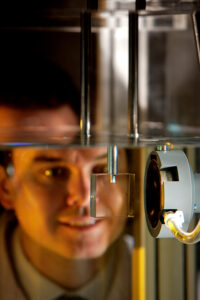 Despite already developing a successful company, Professor Coussios soon expanded his entrepreneurial portfolio by co-founding another company in the field of medical technology. Called OxSonics, this second company aids the treatment of cancer by ensuring that anti-cancer agents are not only injected directly into tumours, but also that the drug is distributed throughout the tumour equally.
In the future, Professor Coussios will continue to develop his innovative companies detailed above together with colleagues. In 2016, he founded another company, OrthoSon, which was built on 10 years of research. Developed on similar lines to the previous ventures, this company aims to develop a breakthrough treatments to restore spine function.
It is clear that Professor Coussios' entrepreneurial journey so far has been wide-ranging and influential. In 2017, his efforts were recognised by his profession as he was awarded the Silver Medal of the UK's Royal Academy of Engineering for his contributions to the translation of novel medical technologies into clinical practice.
His future work will no doubt continue to build on this success in upcoming years. Indeed, in his own opinion, Magdalen College and the wider university help to provide one of the best environments in the country for generating spin-off companies. The university can not only utilise its prestigious reputation to attract global talent, but has also developed a sophisticated innovation eco-system with state of the art medical facilities and support to develop this research into successful business ventures.